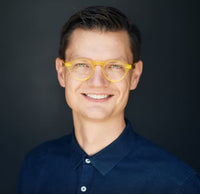 The compositions of Andrew Maxfield—hailed as "rhythmically vital … superbly judged … [and] tender" by Fanfare Magazine—have been performed throughout the U.S. and Europe. A recent winner of the King's Singer's New Music Prize (Jury Special Commendation), Andrew has been a Composer Fellow of the National Collegiate Choral Organization ...
Read bio
Personal Artistic Mission Statement
My purpose is to employ the various facets of my voice and the best applications of my craft—in music, writing, civic engagement, teaching, and otherwise—to bless the world around me. My work follows several broad themes of personal concern including: local adaptation and sustainability; literacy (basic, emotional, cultural); and peacemaking. We see glimpses of our highest potential and best selves through art, which Gerhard Richter rightly called "the highest form of hope," and I hope to be useful through my best efforts.
•••
"You were about more than just hyping your music."
—Karl O., Seattle
The Gesualdo Six perform Andrew Maxfield's "Invitation to Love"
Testimonials
I find Andrew Maxfield's work to be engaging and relevant. His music reaches audiences yet maintains sophistication and compositional integrity. His use of texts is particularly inspiring and bring in the audience with words, concepts and sound.

Dr. Robert Baldwin, Director of Orchestral Activities, The University of Utah / Music Director, Salt Lake Symphony
Maxfield's work displays rich harmonization and masterful text setting.

Helena Von Rueden, The Piedmont Singers
His music is well-crafted, approachable, American, and my singers have taken well to it. He has a great affinity for good texts and a love for the voice.

Dr. George Case, Music Director, The Boston Cecilia & Newburyport Choral Society
Clinician, teacher, speaker
An engaging teacher and public speaker, Andrew is available for clinics, residencies, workshops, conferences, and more. Read more.
Commission New MUSIC BY ANDREW MAXFIELD
Co-mission: possible
I accept commissions, and I'm constantly working on new music in my cheerful, collaborative way. Want to co-create something cool? Read more.